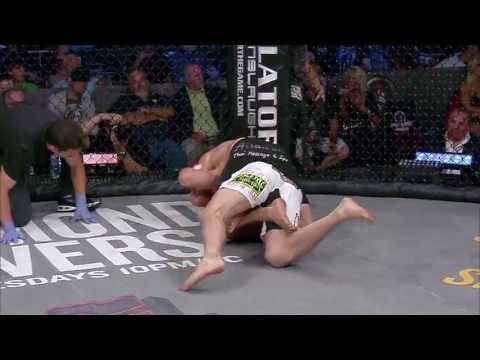 For longtime MMA veteran Travis "Diesel" Wiuff, a win Friday night against Chris Davis would likely solidify his status as a favorite in the Light Heavyweight Tournament after his impressive victory over Christian M'Pumbu last October. For Davis (10-4), it was an opportunity to pull off an upset and move one step closer to his shot at a rematch with the M'Pumbu who he lost to in Season 4. With the majority of the fight contested against the cage, Wiuff (67-14) kept pressure on the smaller Davis as he landed sharp body shots that had him visibly hurt. After dragging the fight to the ground, Wiuff used short, powerful shots to the temple and side of Davis' head until he went unconscious at 4:12 of the first round.

With a combined 30 finishes in 36 victories, a Bellator Summer Series Light Heavyweight Tournament quarterfinal matchup between Zelg Galesic and Attila Vegh was expected to provide fireworks for the packed crowd at The Mountaineer. After a quick back-and-forth exchange between both men, Vegh (26-4) caught Galesic (11-7) with a short right hand that had the Croatian on the mat. Vegh swarmed his opponent and immediately locked in a rear-naked choke that forced Galesic to tap exactly 1:00 into the fight.

Bellator newcomers Emanuel Newton and Roy Boughton certainly knew what was on the line going into their Bellator Summer Series Light Heavyweight Tournament quarterfinal fight, the opportunity to move one-step closer to a shot at reigning Bellator Light Heavyweight Champion Christian M'Pumbu. Newton (18-6) controlled the majority of the first frame, landing takedowns and finishing with elbow strikes to the head of Boughton (8-3) to close out the round. In the second, while attempting a takedown, Boughton was struck by a knee from Newton that dropped him momentarily. That was all Newton needed to pounce on his injured opponent and secure a rear-naked choke at 0:49.

Bellator Light Heavyweight Beau Tribolet had been preparing to face Rich Hale in the quarterfinals of the Bellator Summer Series Light Heavyweight Tournament since the fight was announced last April. However, when an illness forced Hale to relinquish his spot in the tournament, Tribolet (7-2) was pitted against an entirely different opponent in Bellator Season 4 veteran Tim Carpenter. While the first round resembled a striking match dominated by Carpenter (9-1), the second produced a much more even round that seemed to favor Tribolet after he secured a well-timed takedown. Carpenter, however, never appeared discouraged off his back. With nine seconds left in the second, Carpenter was able to capitalize on a mistake from Tribolet and locked up an armbar that forced Tribolet to verbally submit at 4:51.